Actually, they were empty but took a huge delivery from an online garden centre that included a 60 litre sack of compost and a load of propagation modules and biodegradable pots made of bamboo. But the Dianthus knappii seedlings are coming along a treat so they're going to need a new home soon, where they will bloom in varying shades from cream to almost golden yellow. Hopefully.
All the lupins are pricked out into 3in pots and showing true leaves, the new arrivals from my friends at Slack Top nursery are settling in and I must also give a mention to Kevock nuseries who provided me with the most excellent quality Paeonia Mlokosewichii (check spelling later), Lewisia columbiana "Rosea" and something else... Oh, I think Irises imbricata and aucheri.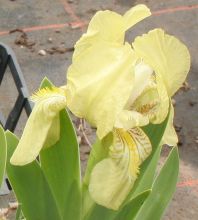 Iris imbricata, pic courtesy of Kevock nursery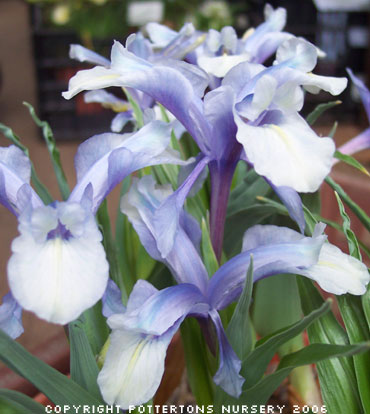 Thanks to the excellent Pottertons nursery for this pic of I. aucheri


That's all for today, even the joy of plants can't keep me healthy all the time, need a rest!

PS, if anyone knows when I should start watering arilbred irises, currently under cover and largely dormant, I'd be delighted to know, otherwise it will be another experiment (and quite an expensive one if they rot off)

Happy sowing and reaping, Chris

PS, got fed up trying to relax so tried sowing some just ripe seeds of a particularly brilliant blue form of Salvia patens, will see if the freshness aids germination and also whether it comes true, cos some are a bit shy flowering and this one is draped in blue.