Custom Search
So, I got my little polythene greenhouse thing from Argos which was surprisingly easy to assemble considering it had no instructions. It had also promised in the description an apron that could be pegged into the ground to stop it blowing away. There was no apron, in fact the polythene cover doesn't even quite reach the ground so, even if my roof was made of turf, pegging would be out of the question. But I'll save my grumbling for when it a) blows away, or b) everything in it dies.
It's not exactly roomy so once the choicer Pelargoniums, Penstemons, Fuchsias, a Canna indica and a few of the more recently rooted cuttings were tucked in, closing it was a bit like tackling a particularly overfull suitcase (yes, it zips up!)
Note the large Gerbera (a real revelation this year) to screen it from the neighbours
But there's a bit more room to move about up there now so I was able to check the bearded Irises over carefully, removing any brown or potentially slimy bits as they settle in for a wet winter. Wish I'd put more grit in the compost when I potted them up but they arrived bare-root from Spain by a courier who had the usual problem finding my flat (GPS?) and I was just anxious to get them potted up and feasting in the hope that at least some will reward me (and you, dear reader) with a flower or two in April/May. And if we're really lucky my arilbred hybrids (including stolons of an unnamed seedling) and junos will do something very spectacular indeed, if I get my watering regime right. Trial and error is all very well but they're not cheap and a year is a long time in gardening.
Couldn't resist showing off my new Tricyrtis hybrid
Accidentally knocked a branch off Salvia patens when I was doing my Krytpon Factor bit so took the opportunity to take even more cuttings as it's such a stunning selection, the blue flowers making even the best Meconopsis betonicifolia or grandis look a bit washed out.
And looked up my new purchases on the web to give you a sneak preview (I don't hold the copyright for the images so if the owners object I will of course remove them). Or better still, why not buy some plants from them!
Azalea japonica "Blauwe Donau"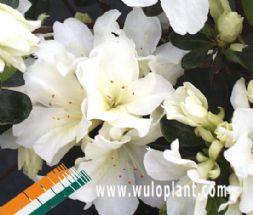 Azalea japonica "Olga Niblet"


Rhododendron "Baden Baden"
Fritillaria uva-vulpis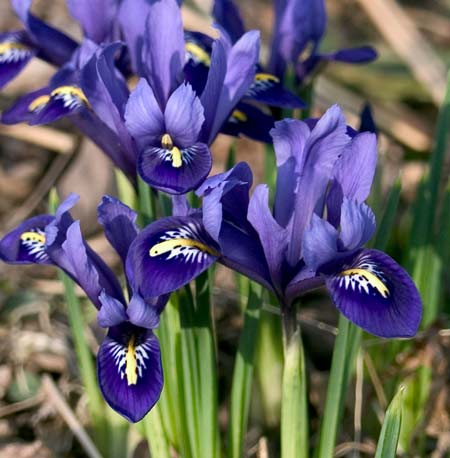 Iris reticulata (typical, slightly dull, form)
What really annoys me, and I should be over this by now but I work in publishing, is nurseries using very blue ink on their labels and in catalogues when the flower in question is basically purple or even pink, as the "blue" Azalea above shows. A well-known British operation (their catalogues regularly fall out of weekend newspapers) do it with their "blue" conifers too and you can actually see that the cyan plate used in the printing process has been overloaded, resulting in some almost flourescent Junipers and the most unlikely shade of cones on Abies koreana, which are basically grey.
40 Dianthus knappii anyone? They were probably a little on the small side for pricking out but the seed pot was getting congested so I decided to go for it and they're looking fine, as are the Lupins (below)
STOP PRESS: Oh crikey! I've just been piddling around looking at Frits on the web and accidentally ordered £40 worth from a really nice sounding nursery in Essex called Rose Cottage Plants (well, the order did include an Oncocyclus Iris and an intriguing little reticulata called "Halkis" with light blue petals marked maroon at the end. At least they don't take up much room... As I've name-checked them, I hope they don't mind me showing you "Halkis"...
Stunner, eh?