You will, dear reader, having got this far, share my utter fascination at seeing some shrivelled little black things that have travelled all the way from Tibet, Bhutan or perhaps somewhere you have heard of but cannot place, maybe Turkmenistan or Sakhalin Island, when sprinkled over compost, lightly covered and just left in peace, bear forth green shoots after maybe a week, maybe a month, maybe over a year and grow into a mature specimen of something you have seen only in a book, catalogue or your wildest imagination.
As a devoted Darwinist I understand why this happens but it amazes me every time. That's perhaps why I am so fond of Chiltern Seeds, a company that specialises in bringing you the finest quality rare seed from around the globe. There are reckoned to be around 300,000 plant species (not including sub-species, hybrids, sports and natural variation) on our planet (including grasses, ferns and mosses), fewer than you might think, and Chilterns offer an amazing cross section of these, some utterly obscure (Eritrichium anyone?), some as common as the humble Marigold or Petunia.
They provide general and specific germination advice but I find that almost anything - with the exception of orchids (they do offer several Dactylorhizas but are honest enough to admit in the case of D. fuchsii: "Unfortunately a terrestrial orchid, incredibly difficult from seed" and offer the seed at a low price for "experimental use") - when sown and placed either outside to face the elements and go through the various warm/cold/warm stages they would experience in the wild or given 18-21C heat for less hardy species will surprise you and little green shoots will pop up just as you were thinking about chucking the pot. By the way, I have no vested interest here, I don't know anyone at Chilterns or gain financially from them (in fact the money flows very much in the opposite direction! I just think any flowering plant obsessive needs to know the web address http://www.chilternseeds.co.uk/.
Tricky but beautiful: D. fuchsii
Just looking further down the page I find something called Deinanthe bifida (translates to "strange + flower", a member of the Saxifragaceae (I've heard of that) with the following description: "'A strange and noble species' is how Reginald Farrer, the early 20th Century rock garden enthusiast describes this uncommon plant from moist, shaded woodland in Japan. With spreading mats of handsome, large, crinkly leaves , distinctly notched at the tips , it bears in late summer dense clusters of creamy-waxy-white flowers an inch or so across with conspicuous yellow stamens". Doesn't that just make you want to try some?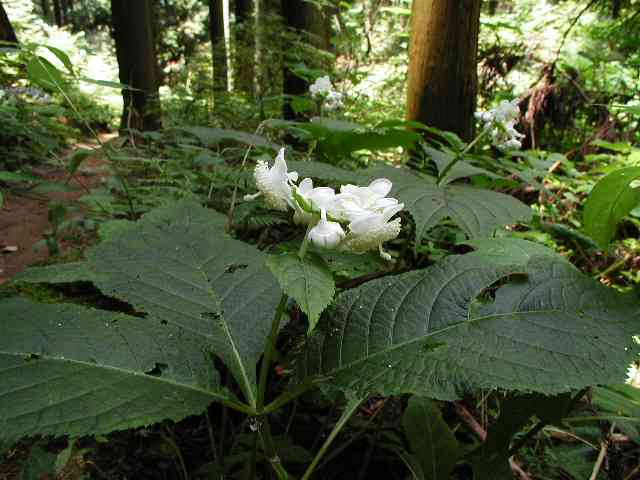 Actually, the description doesn't do it justice!
I often take the catalogue for bedtime reading as it is both fascinating and witty. More importantly it provides me with much of my Iris, Primula, Fritillaria and Lily seed among much else. I often just like the sound of something and give it a go. They do mixed "lucky dip" packets and the whole thing is the closest most of you will get to a plant-hunting expedition (I had the incredibly good fortune to join a trip to the Tsari valley in Tibet (we found a new Rhododendron! and I sat on an ant hill and got a lot of formic acid in my posterior).
Oh, they do veg as well but that sinks my boat.
At the moment I have Paenoias, Irises, Lilies, Meconopsis, yellow Delphiniums, various Digitalis, Verbascums, Rhododendrons, Gentians, Fritillarias, Tulips, Narcissus, Primulas and much more besides on the go and so far only the Frits and Rhodys have yet to do anything, presumably because they're waiting for Spring.
When sowing your seeds always remember to label the pot, even though you think you'll remember, you won't. I also write the date of sowing so I can get an idea of how long something takes to sprout, something that will help if you collect the seed when your babies flower, so you know when to sow again. And if you're growing a mixed bunch of the same species there is always the chance that they will get promiscuous and hybridise, giving you something that might not be of naming quality but it will be your own unique specimen!
I get almost as much of a thrill from striking cuttings, amazed at the ability of a plant to send out roots from a seemingly dead shoot. The only difference is you know what you're going to get!
Somehow just going to the garden centre and buying a mature plant seems like cheating, although I am equally guilty of this myself (usually when I've gone to buy something mundane like pots or labels).
Speaking of which, I've just had an email that my last bulb order of the year, from Rose Cottage Plants, is on its way! Can't wait for Fritillaria acmopetala, F. hermonis amana, F. minuta, F pallidiflora, Iris "Dardanus" (and Oncocyclus hybrid that will require all the green I have in my fingers) and I. reticulata "Halkis".
F. acmopetala
F. pallidiflora