It was a day of parcels yesterday (just as well I was in, the idea of Glendoick's box of goodies sitting in some far-flung Parcelforce depot slowly dying doesn't bear thinking about). The other was a more prosaic but extremely efficiently dispatched box of hardware from http://www.gardensupplydirect.co.uk/ (perlite, sieve, hundreds of biodegradable plastic pots, slow release fertiliser granules, labels and nodule trays).
But enough about that, back to Glendoick's wares. I worked there briefly between school and university and the boss and international Rhododendron whizz, Ken Cox, still remembers my time there (I'm not sure that's a good thing). They collect seed from across the globe but mostly the Himalayas and China and have experimented widely in the best ways to germinate and grow some of the rarest and choicest of the genus. Few have done more since the days of Kingdon-Ward and Hooker to promote the genus and for that I salute them (http://www.glendoick.com/).
Most of their plants are grown outdoors in fields on the nursery in Perthshire, Scotland, in rows, much like very pretty potatoes, in raised rows, once they have been nursed past infancy in polytunnels, so if they can grow there (the soil is nothing special, typical Scottish clay which they improve by digging in rotted bark etc to make the plants more at home. The PH is obviously acidic but not overly so.)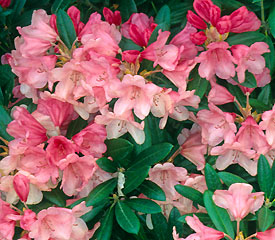 Rhododendron "Cupcake". The Yak parentage is obvious
The fine specimen that arrived, covered in flower buds, yesterday. As healthy as anything from the garden centre
I plumped for a yellow, Glendoick Gold, one of the many hybrids Ken and his father Euan have introduced over the years, and Cupcake, a salmon pink with williamsianum, repens and, visibly, yakushimanum parentage. The former has a final height of 3-4ft but grown in a container (there is no soil on my rooftop, funnily enough) it should remain more compact and Cupcake shouldn't make more than a 18 inches, which is kind of essential given the space constraints up here.
"Glendoick Gold", again a superb specimen, I'll give it a nicer pot when I can afford it!
The plants, also including the mammoth Cardiocrinum giganteum var. yunnanense and Lilium Mackliniae, came straight from the ground with a healthy rootball securely wrapped in a plastic bag to retain moisture. The bulbs were also straight from the ground, which helped particularly in planting the lily as it showed the depth at which it had been growing and it looks like a stem-rooter so was potted up accordingly.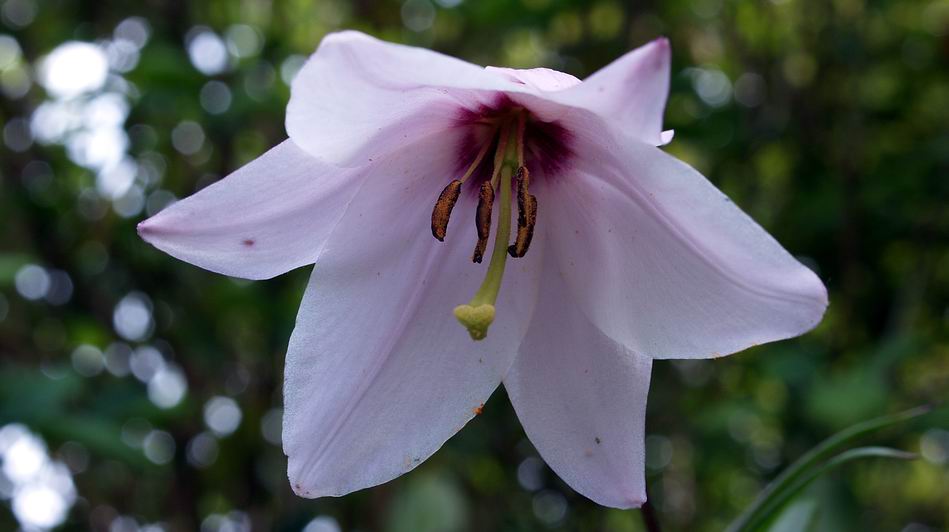 The lily is a delicate little flower, literally, unlike the thumping great Cardiocrinum (see posts
passim)
I'm afraid I don't have a picture of Glendoick Gold in colour but, trust me, it's a gem.
I think there's just one more batch of living things to come this year, from the charmingly named Rose Cottage Plants, although these are far from cottage garden plants: Fritillaria acmopetala, f. hermonis amana, F minuta, F pallidiflora, Iris "Dardanus" and I. reticulata "Halkis", all of them delicate little bulbs mostly for the (ahem) bulb frame (an upturned clear plastic storage box, necessity being to mother of invention).
I thought I'd take an opportunity to sing the praises of some of the less exotic stalwarts that have given the roof its structure and colour this year while I get things ready for the more exotic next year. for example, the humble Nasturtium (Tropaeolum majus) had been a stunner, and it's still sending out flower shoots all over the place.
I didn't think I was much of a Dahlia fan (the right reverend Bishop of Lanstaff being the exception) but both he and an anonymous pink do-er have been stunning, as has the more recent addition, "Clarion", which has even deeper red foliage than the Bish.
Anonymous but flowered it's big heart out all summer
What happens when you give a horrible mildewed Bishop a haircut. Glorious glossy, pathogen-free foliage and even new flower buds but with the first frosts surely not that far off, it could turn into a pile of mush overnight.



Dhalia "Clarion", a later addition but a stunning contrast between foliage and flower

/
blog directory