Hello, good morning and welcome to the worst pun you'll ever read. And if you're not a British child of the Seventies you'll be even more flummoxed (unless Trumpton was syndicated around the globe). You'd never think writing headlines is part of my job - for a proper paper too!
Anyway, before we head back to west London and the alpine and glass houses at Kew (don't worry, no pictures of giant botanical penises this time), a brief update on things up here on the roof. The first blooms on Clematis "Niobe" are beginning to open, which is great, although the shade is very much purple rather than the red in the catalogue. It's a hybrid and therefore a genetic clone, so perhaps it reddens as it ages.
Clematis "Niobe", the first of four varieties to bloom on my Clematis tower
My project to own one of every species of Meconopsis (except cambrica, the Welsh Poppy, which I consider little more than a weed) continues apace with the germination of one seedling of M. integrifolia.
So I hope to go from this...
Can you see it? It's in the middle
To this: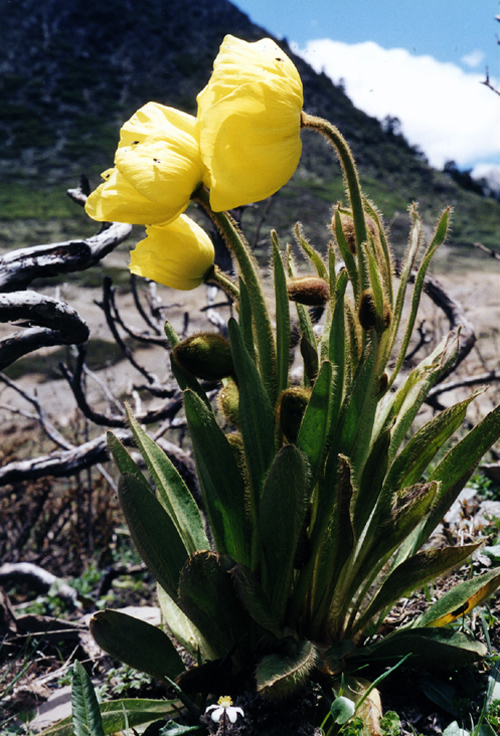 I think this afternoon might have to be spent pricking out Digitalis obscura. They're still a little on the wee side but so were the Verbascums and Primula candelabra species and, while it was a horrible fiddly job to pot them on, the others went from sluggish to full of beans instantly.
I can just about handle these seed leaves with my great podgy hands and the pricking out treatment worked wonders for the other seedlings, which emerged around the same time


Instant boost: these seedlings have a much better chance of making it through the winter since they were revitalised by a change of compost and their own personal space!
Finally, a question for the bulb specialists among you. Is it normal for Iris reticulata to throw up huge leaf spikes before flowering? It's a good few years since I've grown them and while the posh ones such as "Katharine Hodgkin" and "Natascha" are showing nothing yet, the bog standard fellas are reaching for the skies but showing no sign of flowering (it is only November and I wouldn't expect to see even foliage until at least next month, even in a mild winter). I'm perplexed because the bulbs will have enough energy stored in them to flower without needing to build up puff with dirty, great transpiring spikes. Any advice gratefully accepted! They look like this right now:
Ahem, excuse the focus, I'm wearing my specs today which makes photography tricky
Part The Second: Kew Two
Right, this is the bit you've been waiting for: the rest of the Kew photos I took yesterday. As I recall we were in the alpine house and about to have a look at some crocuses and things ...
Ipheion hirtellum,
from Uruguay and Argentina. A bit of a straggly mess of a plant but the individual blooms are pretty special!
ALL KEW PHOTOGRAPHS ©CHRIS MACKAY: USAGE FEE APPLIES
Yesterday we saw a form of Androcymbidium
gramineae with red veining on smaller flowers
(here's a little reminder). Below is exactly the same
species but a more robust form with far larger
flowers and no markings. I prefer the daintier
version but I wouldn't chuck either out of the bulb
frame for passing wind!
And finally, some Crocuses. This was labelled Crocus caspius "lilacinus" and while the first and second names are right, I'm struggling to see any lilac. My schoolboy Latin doesn't stretch to any other suggestions but it's lovely so let's just leave it at that


Crocus cambessedesii. A tiny little thing from Majorca and Minorca, it is in fact the smallest-flowering Crocus known to botany. It can be grown outdoors but is best kept in the alipne house or bulb frame where it can be fully appreciated. The petals have black stipes on the underside, sadly not visible here (if I'd known they were there I'd have tried to snap them, although the rarified atmosphere in the alpine house is a bit like a high-end jewellers where you're the only customer. Definitely no touching or leaning on the rock to get a better shot!)
Crocus goulimyi from sothern Greece (the Mani peninsula and Peloponnese)
Crocus tournefortii, also from southern Greece. It can be grown outside if you happen to have any rocky scrubland in your garden but is best under cover


Primula verticillata. I didn't know there were Primulas native to Africa but this is native to Ethiopia although was originally brought to the attention of Western botanists in Yemen in the 1870s. Also known as the Abyssinian Primrose.



Well, I've still got a few more to show you, including some amazing pelargoniums from the Diana glasshouse but they'll have to wait if I'm going to get those Digitalis sorted (and the Blogger software is playing up, which is why this is in the same box as the primula caption.)




Happy gardening as ever, the plantboy x