Hello, I thought I'd change the title pic to remind all of us in the northern hemisphere that summer does exist and it isn't always -21.1C, as was recorded in the tiny Scottish village of Altnaharra yesterday, where residents haven't been able to get through the snow for three weeks. And here in London it's hovering around zero, which isn't great for tender plants but at least nothing's fallen out of the sky for a while and what did last week has melted.
As my regular reader will know (Hi James!) I won (yes, I know, I've got to get this under control!) several choice Lilies in a late flurry of bidding on eBay, paid a ridiculous amount for them but where else am I going to get L. henryi, superbum, oxypetalum var. insigne, pumilum and 3 more hansonii, as well as a free gift of a yellow impatiens, the name of which I keep forgetting (It has about 5) but the small operation is on the west coast of Scotland and the owner hadn't seen a post van for almost a week due to a huge fall across the central belt of the country so she is very kindly looking after them for me in case they end up buried under a mountain of Amazon Christmas parcels in a warehouse somewhere. I can wait, they're not going to flower for 5 or 6 months anyway!
So, despite the minor thaw, many of my pots on the roof (and there are only pots for roofs of course tend to be soil-free) are still frozen solid. My tender babies are crammed into a flimsy polythene mini greenhouse and so far it has done a sterling job of keeping things perky but I have to be careful to open it during any day it's safe to do so because with that volume of plant material comes a huge risk of the spread of pathogens and the dreaded Botrytis so I'm trying to give it a good airing daily.
There is a fly buzzing towards the ointment though: I received an email yesterday saying four sexy but tender beauties are on their way: Hedychium densifolium (the Ginger Garland Lily), Wachendorfia thrysifolia, Libertia Grandiflora and Dietes grandiflora. I know I have seed of the Dietes and I will sow it but I got a bargain on a plant and couldn't resist. The Libertia's from New Zealand so might be a bit hardier as they have a similar climate to ours.
The Hedychium is said to be hardy down to about -5C but that's an established garden plant, not a pot. I might have to get the bubble wrap out!
Wachendorfia from South Africa. Hardy to -1C. Shit!
After a bit of research it appears Liberteria grandiflora is a hardy cottage garden plant . Phew!

Dietes grandiflora. Apparently frost hardy but only just. At least all of it will be underground at the moment!
(Photo © pinemountainnursey.au)
So possibly not that much of a problem. I'll let you know when they die.
Oh, I know what I meant to tell you, I took delivery of half a dozen dwarf Rhododendron hybrids from Corwallplantoholics. Note the word "dwarf"! They came in 10cm pots and all were healthy and perky except "Giny Gee", which brown patches which look suspiciously like rust so I might chuck it. I already have a very healthy specimen of said variety (you couldn't choose, it was take what you were given). And I was given:
"Snow Lady"
"Blue Star"
"Wee Bee"
"Patty Bee"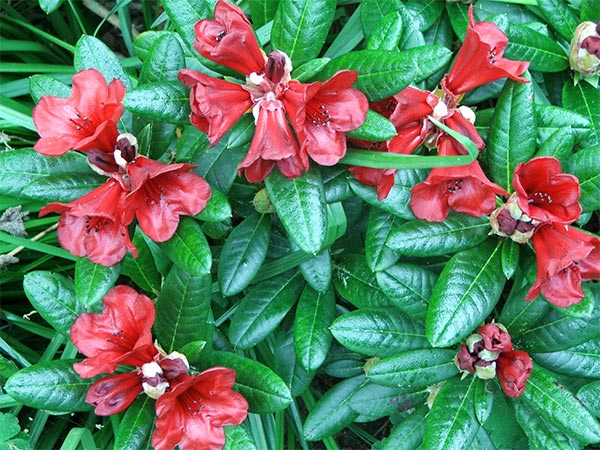 "Little Ben"
And we might as well have a look at "Ginny Gee" again:
I nicked this picture from the Duchy of Cornwall. Do you think I'll end up in the Tower? I think the over-priviledged pillock can do without the repro fees and if he does come after me, just remember I'm a journalist and I know things about him he doesn't know I know...


Okay, that's it until it gets light and I can brave the roof to check up on things. I need to pot on Lilium Langkongense which is currently in a weeny square pot and that lovely bulb with the white flowers and red spots ... bloody medication... begins with an "O"... no it doesn't, Nomocharis.
I stood for a hour in the queue at the PO depot yesterday morning (It's a fortnight before Christmas, every other package was from Amazon and they had two members of staff on and a queue of over 50 up the street in -3C) to pick up two packages: one containing half a dozen tall, narrow Clematis-style pots which I plan to use for my Lilies so they fall over more easily, and a massive load of slow release fertiliser granules, essential when growing in containers. It's lucky there weren't any plants because they've been sitting there since Thursday.
Back in an hour or two!
Actually, not a lot to report. Cyclamens cilicium and coum arrived in the post today (two of each so I planted each of them an inch down in a woodlandy compost mix, they're bot quite hardy so should be fun, even if all Cyclamen look the same. I suppose it's a bit like Galanthophiles; I can understand why they have bulbhouses full of, to the novice, identical snowdrops but they and their kindred spirits can see the differerences.
With Cylamen it's mainly flowering time (autumn or spring) and leaved (rounded and unmarked or pointy and silvery. And the myriad shades of pink.
Potted on wee Rhodies and also Lilium Lankongense into a much bigger pot and I'm glad I did because in that one little square black 10cm pot were two flowering sized bulbs! So that was me happy enough to watch another leaf fall off one of the South African Pelargonium species I'd raised from seed. I suppose my grief was tempered by the knowledge that I've 12 species or 1st species hybrids coming in March.
Oh, and a lily's popped up, some gaudy trumpet hybrid, it's about 2cm tall.
Everything's still frozen solid by the way, makes potting on a lot easier!
May the weather not be really bad to you, the plantboy, and don't forget you can Tweet me (@theplantboy) for advice and abuse